As the maternity fashion industry continues to grow, maternity robes have become one of the most popular styles for pregnancy photos. With the rise of social media platforms like Pinterest, Instagram, and Facebook, maternity robe styles and trends have become more accessible and popular than ever before. In this article, we will explore some of the hottest maternity robe styles and trends.
1. Boho Maternity Robe
Boho maternity robes are known for their flowy and relaxed fit, making them perfect for a laid-back pregnancy photoshoot. These robes are often adorned with ethnic prints, fringe detailing, and lace embellishments.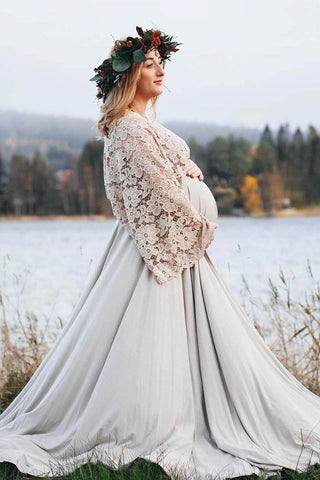 2. Lace Maternity Robe
Lace maternity robes are a classic choice for pregnancy photos, offering a touch of elegance and sophistication. These robes feature intricate lace patterns and can be paired with various accessories to create a stunning look.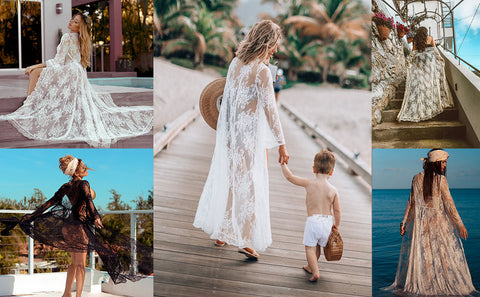 3. Plaid Maternity Robe
Plaid maternity robes are a trendy choice for expectant mothers who want to add a touch of modernity to their pregnancy photos. These robes come in various colors and patterns, allowing for endless styling possibilities.
Maternity Robe in netted style is designed to provide comfort and style for expectant mothers. It is made of soft, breathable material that allows air circulation, keeping the wearer cool and comfortable during pregnancy. The netted pattern adds a fashionable touch to the robe, making it a stylish and practical choice for mothers-to-be.
5. Romper Maternity Robe
Romper maternity robes are a fun and trendy option for pregnancy photos, offering a flattering and comfortable fit for expectant mothers. These robes feature a one-piece design and are often adorned with ruffles, lace, and other embellishments.
In conclusion, maternity robes are a versatile and stylish option for pregnancy photos. With so many different styles and trends to choose from, expectant mothers can find the perfect robe to match their personal taste and style. Whether you prefer a Boho, lace, plaid, kimono, or romper maternity robe, there is something for everyone.